Credit for this one goes to Texazzpete...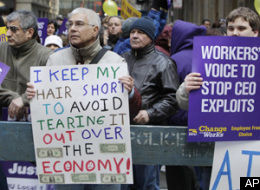 The above images show protesters in the US marching against the decision by AIG to reward their top management with bonuses even after the credit crunch and after tax payers' monies were issued out to the company as bailout.
The pictures depict outraged Americans marching to protest this issue. It is pertinent to note that the bonuses were not illegal in any way, but were construed by the American public as being entirely immoral.
Now let's look at Nigeria. We have bank CEOs who have been involved in shady activities that are not only immoral (such as handing out hefty loans without collateral) but sometimes illegal (like giving out loans to shadow companies, loans to fronts and companies with vested interest).
Due to the reckless and foolish handling of the banks and a reckless and stupid over-exposure to the fortunes of the stock market, millions of ordinary, hardworking Nigerian bank shareholders have lost billions of Naira both in share value and in terms of unpaid dividends.
Given this scenario, one would think Nigerians would be up in arms about this, eagerly in the vanguard of those calling for the heads of the bank CEOs. Instead the vast majority of Nigerians i've spoken to - seemingly unconcerned with their real losses in the market and the threat to the Nigerian economy - are more interested in accusing Sanusi of pursuing an 'ethnic agenda'.
Some even go as far as lauding the bank CEOs for 'providing jobs' and 'making the banks the way they are', as if competent bank work and honesty are mutually exclusive!
But that's Nigeria and Nigerians for you. Shafted 24/7 by people we should hold accountable, yet we focus on irrelevant matters.
Truly, i think Nigerians are sheep! Meek, mild and always joyful to the slaughter slab.