Nosa
this is for you...
Now since you are just installing Ubuntu for the first time, I believe that you are using Gnome as your Window Manager. To configure the network, you click on the menu as follows:
System>Administration>Networking
.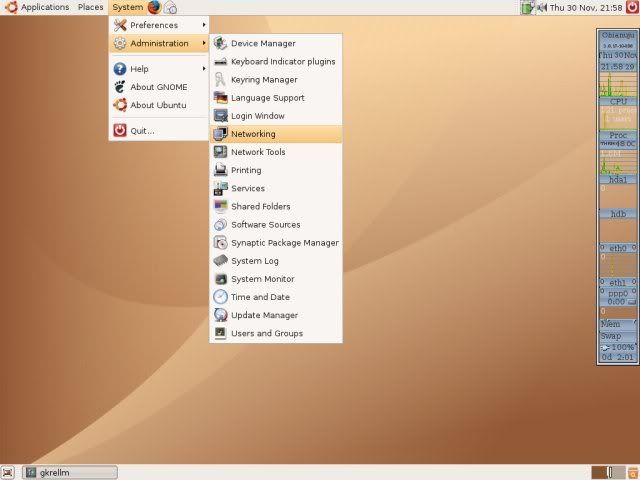 That will open the network dialogue.
Now, by default, all the network interfaces are not configured. The default interface for your wired connection is
eth0
, the default interface for your wireless connection is
eth1
, while that for your modem should be
ppp0
. You click on the wireless, and then click properties. That should bring up the dialogue below: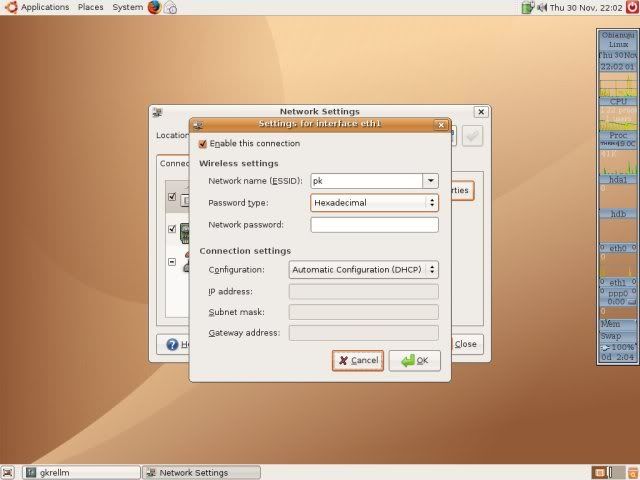 Once you've filled in your SSID (network name) and WEP key (if there is one), then you have to make sure that you have the correct IP address. If there is no IP address, leave it on DHCP which is the default. If there is, change the configuration to Static Address, and input your IP address in the fields provided. Then check the
Enable this connection
box at the top left hand corner of the dialogue. After you've clicked OK, you are ready to go.
Now, if you are using KDE, or Kubuntu, there is an even easier way to go about it. Just look for KWifi-Manager in your Internet Menu...
Then run it. Click the Scan for Network button. That would give you the names of all the available networks in the yard, so you can easily connect. Maybe when your hand is strong we could put you through on using
Airsnort
to join WEP encrypted networks.
So, enjoy and happy browsing.